Telephone: 01633 251114 e-mail: raymond.knight@btconnect.com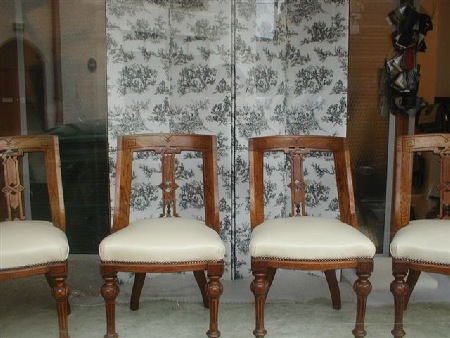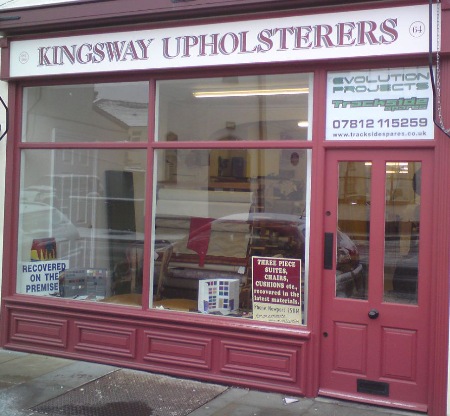 This is our shop and all work is carried out here. Nothing is farmed out to other contractors, so you can always pop in and see your furniture as work in progress. I spend about 90% of my working time here, either in the office or working on the bench with my colleagues. There's no ducking or diving when you want to find the boss. We are a small but conscientious company.



I have now taken over the business from my father

(1st January 2009) after 26 years of employment experience with the company.

We currently have two other employees who have served in the upholstery business for over 35 years each

Between us we have all the knowledge and skills to make you furniture turn out exactly how you want it to be.

Here at Kingsway Upholsterers we can accommodate all your needs, whether it be supplying a castor or a cushion, right up to recovering the seating for a whole office block or factory, no job is too big or too small.

In the past we have completed work for many large organisations and companies, such as:-

Llanwern steel Works \ Corus

The Passport Office/ Government Buildings

Cwrt-Bleddwn Hotel

Lucas Girling

Newport Borough Council

Torfaen Borough Council

British Airways

The Limo People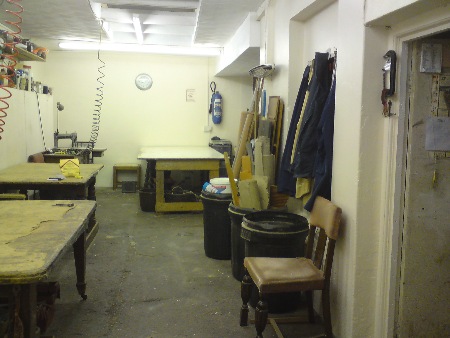 This is our workshop area. We don't use state of the art equipment as most of our tasks are carried out using manual tools. The benches are covered over with clean card when we are working on the final covering. Prior to this we have the tables bare for stripping down and repairs, as this is normally a very messy job. Its quite surprising what falls down the side of furniture after many years!



We have also successfully completed work for numerous hairdressing salons, doctors surgeries, dental practices, both local and non local public houses, with all of our completed work receiving outstanding comments!

We have had work sent to us from Switzerland and then exported it back when complete.

We were featured on the hotel inspector television program for work we did in the lamp room and bedroom. http://www.five.tv/shows/the-hotel-inspector/episodes/west-usk some of the pics are in the gallery section.

Our work has also been sent to numerous celebrities via contractors, such as Andrew Williams cabinette makers.We recently completed the upholstery of the three peice seating area in the Melenium Centre at Cardiff Bay, as a contractor to White Bros & Speed



As mentioned we are a small family sized business but we do get about.
Our work can be viewed at the shop,as most items are done on the premises.

The bulk of what we do is for the domestic side of things and repairs are a speciality.Respringing,webbing,frame repairs etc make up the bulk of this and with modern furniture being so disposable,there's a lot to repair.

Dinning chair seats are very popular,as these can make the whole set look new again and the cost is low compared to replacing the lot.

More people are having their 3 piece suites recovered lately,as frame quality is so poor on most new suites.

Occasional and antique chairs feature quite heavily into what we do,with antique restoration and the springing / padding being something we are quite adept at doing. This is something that is overlooked by most and makes all the difference between the job looking 1st class for years, or looking worn out after just one or two!

There are always a good selection of pattern books in the shop for viewing along with dozens of remnants.

We also keep a stock room full of sundries.

Examples of some of the things we stock are:-

double cone springs

zig zag springs

stud's

adhesives

polyester

castors

hessian

braid

fringe

webbings

needles

fabric protector

foam cushions

foam in sheet form in 1/2", 1", 2", 4" thickness

tools are available to order



Please view our categories pages for samples of our work and more examples of what we do